Truckers Network Launches New Features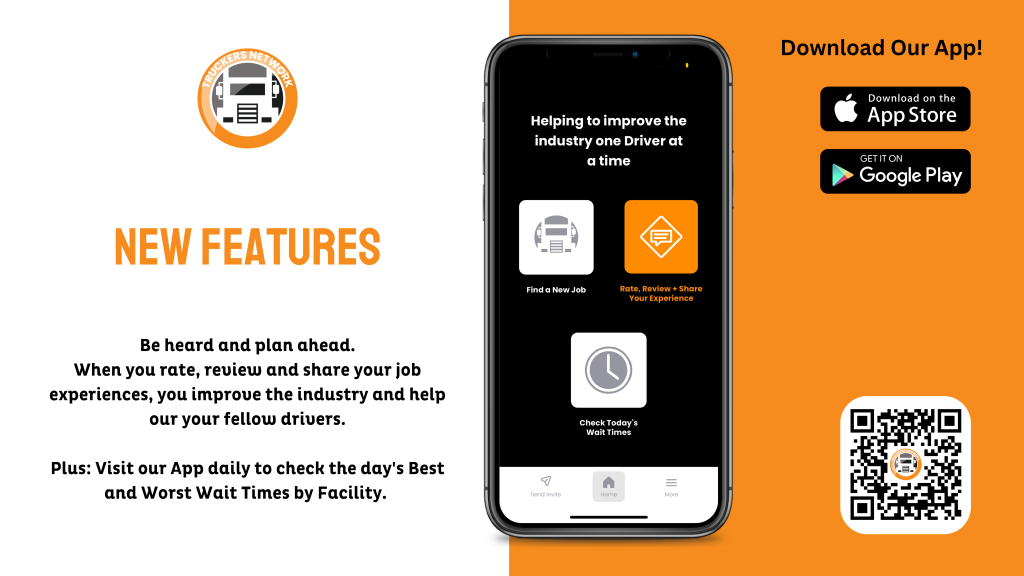 For licensed CDL Holders, our job-matching functionality is as simple as a swipe. Register on our app and complete your profile in less than two minutes. Based on the information in your Profile, Truckers Network will then match you with all available jobs in your chosen area. Simply swipe left to discard a job post, or swipe right to apply. Receive real-time alerts the moment a new job posts within your area. But wait… there's more!
We are so excited to introduce our Newest Features on our Multi-Feature Truckers Network App; Check Today's Wait Times and Rate, Review, and Share your experience.
Our First New Feature: The Ability to Check Today's Wait Times at today's Top and Lowest-performing locations. We know how valuable your time is, and now you can check out the wait times at your most frequent stops beforehand. Additionally, the ability to add the amount of time you spent at that location, with always having the ability to edit your entries at any time.
Our Second New Feature: Rate, Review, and Share your experience at each facility, warehouse, or location that you come into interaction with. This is an eight-step process, but don't worry, quick! First, enter the shipper address you are at, and if the location you are looking for is not there, you can create a shipper too. Next, enter the total wait time that your delivery time took, with the ability to always be able to make any adjustments afterward too. Include the location type (Plant, Warehouse, Intermodal site, or Other). Select delivery type (live load or drop and hook). Then, rate the level of safety, directional clarity, friendliness, and cleanliness, on a five-star rating, and the ability to add any other comments you wish to provide too.
At Truckers Network, we are here for you and want to make the work better for you, One Driver at a Time.
About Truckers Network
Truckers Network is the trucking industry's premier job posting and hiring platform. Our technology-driven solutions offer the most advanced and modernized hiring options to match qualified CDL candidates with Companies looking to expedite their hiring processes. Our proprietary system draws from decades of development and industry insights. With over 200,000 CDL Drivers in the Network, companies are able to find qualified drivers, fast.
Truckers Network's sister company, 160 Driving Academy, is the nation's largest commercial driving school. As the fastest-growing vocational school in the country, in 2023, the Company will train over 35,000 students on how to safely operate a commercial vehicle. 160 Driving Academy operates across 44 states and each school is certified and licensed by each State agency and the Federal Motor Carrier Safety Administration's Entry Level Driver Training Program. The 160 Driving Academy is integrated with over 400 Workforce offices nationwide to create jobs for unemployed and underemployed workers.
160 Driving Academy also supplies the largest employers in the nation with an unparalleled level of recruiting, high-quality training, safety effectiveness, and driver analytics. Many of these employers have trusted the 160 Driving Academy to provide the majority of their driving workforce. 160 Driving Academy has recently deployed its virtual HAZMAT Certification training course available for any driver looking to receive their HAZMAT endorsement.
Click Below to get the latest update of the Truckers Network App!